THE NITTY GRITTY
We are really proud of every element that goes into each Sasquatch cable. We have been very strategic in every decision that went into designing and producing these cables. From the connectors, to the type of flux used in the soldering process, to the way the cable lays on the stage; it has all been overseen by professional musicians and experienced technicians. Here we go:

NEUTRIK'S NP2X & NP2RX
On one end of our cable we use the Neutrik NP2X connector (available in both straight and right-angle). Neutrik has been an industry standard for over 40 years producing top-notch components used by professional artists and touring companies around the globe.

The NP2X connector has a slimline, die cast shell and a one-piece tip contact that makes it unique and avoids hook up in a socket or break off the tip. One of the major points of vulnerability with any cable is the junction of the cable and the connector. Neutrik has mitigated this with a very strong strain relief to ensure extreme flexibility without damaging your connection over time.



On the other end of your Sasquatch cable you will likely find something you've never seen before - the Neutrik SILENTplug. This 1/4 connector offers something that you won't find anywhere else; a solution to a problem every musician faces - unplugging or plugging in your cable while it's still hot. That classic, dreaded POP followed by bad looks and one really frustrated sound guy.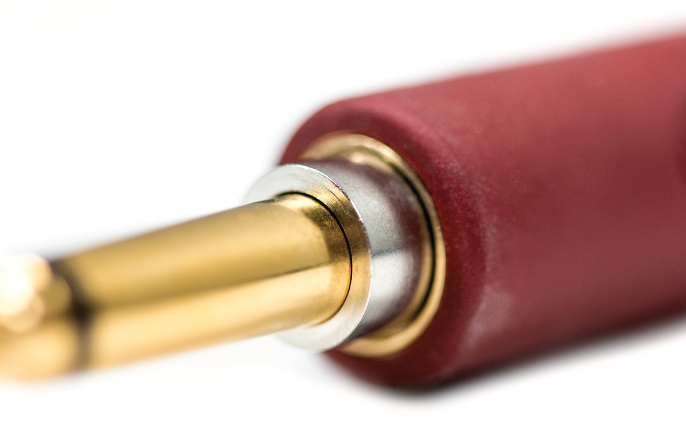 The SILENTplug features a nearly unnoticeable switch at the base of the connector that automatically mutes the cable to avoid unwanted pops and squeals when unplugging or plugging in your cable. It is rated for over 10,000 mating cycles. We have tested this reed switch for several months and we can say with 100% certainty that it will become a new necessity for you.
THE ELITE CORE CSI
Just like the other components of Sasquatch cables, we wanted a quality cable that would withstand years of abuse and keep kicking. Along with this, we wanted something that just feels right in the hand and that lays right on the stage. After months of research, we landed on the CSI cable from Elite Core.

CONDUCTIVE PE
One feature the CSI cable brings to the industry really stood out to us - conductive PE. Now, we know that a lot of this tech talk may seem a bit nerdy, but let us explain it in terms that we can all appreciate. Conductive PE is a layer of conductive jacketing that eliminates static charge buildup within a cable.

When you move a standard instrument cable around on stage it naturally builds up a small static-electric charge in the cable that creates pops and buzzes in your signal. Conductive PE completely eliminates this by allowing the charge to be released into the drain wire of the cable - not your signal. Conductive PE along with a braided copper shield gives you a solid cable that rejects molding and is extremely flexible.
HAVE MORE QUESTIONS?
Let us help. Give us a ring at 1-800-281-6607.